On the morning of Indiana's crucial GOP primary, Donald Trump seconded on May 3 the explosive allegation that Rafael Cruz, father of presidential rival Ted Cruz, helped Lee Harvey Oswald distribute pro-Castro leaflets in New Orleans three months before President John F. Kennedy was assassinated in Dallas in 1963.
"His father was with Lee Harvey Oswald prior to Oswald's being — you know, shot. I mean, the whole thing is ridiculous," Trump said May 3 during a phone interview with Fox News, referring to the man in the necktie at center in the photo. "What is this, right prior to his [JFK] being shot, and nobody even brings it up? They don't even talk about that. That was reported, and nobody talks about it."
"This is nuts," Ted Cruz responded in defending his father from Trump's charges as voting began during Indiana's crucial primary May 3. "This man [Trump] is a pathological liar....The man is utterly amoral. Morality does not exist for him."
Regardless of what one thinks of Trump, reaction to his comments May 3 illustrate how he threatens the Washington establishment, including reporters and pundits who suppress and otherwise slant important news regarding election campaigns and other major events.
Federal authorities and the major media have always argued in essence that Oswald acted alone to kill JFK on Nov. 22, 1963. True, the establishment occasionally floats also oddball theories attributed to cranks and "conspiracy theorists."
But their repeated conclusion is that Oswald killed JFK alone, as we reported in Major Media Stick With Oswald 'Lone Gunman' JFK Theory, even though many serious researchers, law enforcement and scientific whistle blowers, and other suppressed voices have long argued that Oswald was a scapegoat who acted with others at a minimum, and may even have been innocent of killing either JFK or a Dallas policeman that day.
Update: Ted Cruz suspended his campaign after Trump trounced him in Indiana's primary by a 53-37 percent margin. Trump was winning also the vast majority of the 57 delegates at stake. In the Democratic race, Bernie Sanders upset Hillary Clinton 52-48 percent with most votes tabulated.
Critics of the 1964 Warren Commission draw on a vast array of evidence to show involvement, often compartmentalized by those who did not know the ultimate result of their actions, by rogue elements of government, business, the mob, and Cuban refugee community, with the result that Kennedy was replaced.
To hint at such a monstrous concept means career oblivion even now for prominent officials, pundits and academics. That has long been the case. Declassified 1960s documents show that the CIA orchestrated a campaign to discredit as a "conspiracy theorist" those who suggested government misconduct in the JFK case and subsequent mysterious events extending to the present. We summarized the evidence in a 2014 column: Don't Be Fooled By 'Conspiracy Theory' Smears.
That pattern helps explain the instant attacks on Trump May 3 and absence of virtually any commentator willing to explore whether his comments might have a basis in fact worth exploring.
In contrast, investigative reporter Wayne Madsen first reported April 7 evidence strongly suggesting that Rafael Cruz was the mystery man photographed handing out literature on Aug. 16, 1963 outside the International Trade Mart. New Orleans District Attorney Jim Garrison later unsuccessfully prosecuted the trade mart's leader Clay Shaw on claims of conspiring to murder the president in a plot involving the president's opponents.
Nonetheless, Madsen was careful not to conclude definitively it was Cruz and indeed appeared on a New Orleans radio station that week asking listeners for help in an ongoing investigation on the mystery man's identity. Similarly, Trump supporter Scottie Nell Hughes aptly told a CNN audience that Trump was raising questions about the photo and related research, and not accusing Ted Cruz's father of plotting murder. By contrast, dishonest commentators are fudging all distinctions to ridicule any further inquiry.
In the photo above by the late Johann Rush of WSDU-TV in New Orleans, Oswald is at front left in a white shirt and necktie. He stands next to man never publicly identified by the Warren Commission, center, and also in white shirt. They were handing out leaflets for the Fair Play for Cuba Committee outside the International Trade Mart in New Orleans on Aug. 16, 1963. The National Enquirer reported that is has determined through photo analysis that the man is Rafael B. Cruz, father of GOP presidential candidate Ted Cruz.
The mainstream media of major newspapers, wire services and broadcast networks have always been virtually unified in denunciations of Garrison and his team. Their chorus that has remained largely in place until today in a way that can only be understood by those exploring the key roles of the CIA and its empire-building, anti-Communist goals on behalf the agency's Wall Street and other oligarchial controllers and using such allies as major media, the Cuban exile community, organized crime, and military contractors.
Thus Madsen's reporting -- which has been amplified by an Indiana blogger Gary Welsh (found dead over the weekend), the McClatchy News Service, then the National Enquirer in a cover story last week, and now Trump -- represents a remarkable challenge to the government and media establishment and all who hope for career success within those career paths.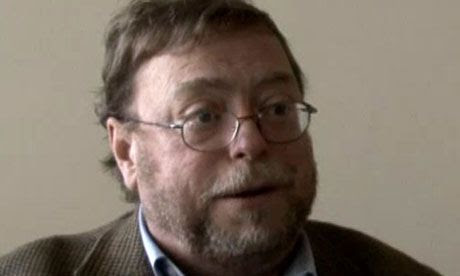 But that does not mean that Rafael Cruz was not passing out literature in New Orleans with Cruz. Indeed, a full examination of the circumstances would suggest it is highly likely that those with Wallace were not simply heavily comprised of government assets and Cubans. Indeed, Rafael Cruz has lived his life in largely mysterious fashion in key details, despite publishing a memoir this years and advocating as a that God's will is that Americans elect his son as president.
Our own Justice Integrity Project reporting through the years and more intensively since Madsen's scoop suggest compelling evidence that the elder Cruz was indeed part of Oswald's effort in New Orleans. Yet major media are now nearly unanimous in continuing the cover up of any thorough inquiry, which could readily be accomplished with in-depth interviews of surviving participants, release of suppressed documents or even a grand jury investigation.
Instead, Madsen (shown in a file photo) and the National Enquirer are now the targets of venom by both the mainstream media and those on alternative website whose chose tool is snark, not any demonstrable knowledge of the JFK or other political assassinations or sex scandals.
By contrast, Madsen with a three-part series in 2006 broke the story that House Speaker Dennis Hastert (R-IL) was a gay pedophile hiding his past as a lecherous high school wrestling coach. The mainstream ignore the series and now never gives him credit despite Hastert's guilty plea and sentencing. Similarly, the Enquirer has broken many major scandals covered up elsewhere and yet is automatically ridiculed even though it has almost never had to pay a verdict for defamation for wrong reporting.