COMMENT - And this is one of the reasons we need to ensure Big Oil bleeds accountability; to raise their costs and the price of oil so they can be purged from the market entirely. Told you so!
International Monetary Fund suggests prolonged period of low oil, coal and gas prices could discourage further adoption of cleaner energy sources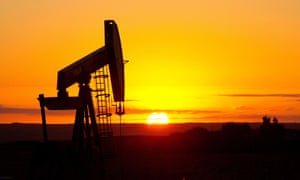 Oil prices have fallen by more than 60% in the past 18 months. Photograph: Karen Bleier/AFP/Getty
The International Monetary Fund has issued a warning before a meeting of the Opec oil cartel that permanently low fossil fuels are choking off investment in renewable sources of energy and hindering the fight against climate change.